GreenPrints Writer's Guidelines
Thanks for your interest! GreenPrints lives because people like you care about gardening—and about sharing with other gardeners. Without your garden writing, the magazine simply would not exist. So, thank you!
Now, what do we want?
1. The best, personal (important word, that) garden writing we can get. Expressive, thoughtful, humorous, angry, contrite, flippant, searching, witty, observant, sad, inviting— whatever! We focus on the human, not how-to side of gardening. On the people as well as the plants. After all, gardening is a relationship, not a recipe. GreenPrints explores that relationship, not by instructing, preaching, or lecturing about it. Instead, we celebrate it … by sharing the stories and experiences we all have trying (and sometimes failing) to get along with plants.
Do you want to know a secret? The kind of garden writing we most want? That will win us over every time?
A good STORY.
That's it. A good, entertaining, clever, moving, funny story. One with, you know, a narrative. A plot. Where something happens—something remarkable, touching, unexpected, hilarious. Let me say it again: a good story. One you'd like to hear or read. Most especially, a true story. Something special that happened to you. That's the garden writing we most want.
And, please, try to show us the story, not tell us about it. Remember the old high-school English-class dictum: Show, don't tell. Take us through the experiences with you with trenchant details and tight descriptions. Don't say it was profound or funny or beautiful: make us experience the feelings. (Hint: dialogue is a good thing.) (Names, too, not just "my husband.")
2. We're not opposed to essays, but the good ones a) evolve directly from personal experience and b) offer new insights or at least new ways of expressing old insights. We're not opposed to fiction, either, but don't you agree that it should offer something special that the nonfiction stories we get don't (i.e., don't just imitate reality).
3. One thing for sure, we don't want sappy, gooey writing. Tender, moving, poignant is wonderful. But syrupy garden writing is a big trap GreenPrints has to avoid. (Another is preachy. We can all read lectures and sermons other places, oui?)
4. Strong endings. Many, many, many times we send pieces back to say, "This peters out. The ending is weak, obvious, trite. Give me a creative, witty, forceful conclusion. Stop the piece with a wham, not a whimper." A good ending (some of which make a clever reference back to the beginning) can lift a whole piece of garden writing a notch and make it end with an exclamation point of strength, instead of, well … just … fading … away …
5. Length? We're digest-sized, so most pieces are no more than 2,000 words. But write what you have to.
6. Payment? We pay between $100 and $150 per story we buy. We pay on acceptance, buy First North American Serial Rights (unless you've already published it somewhere else first; we're happy to reprint garden writing pieces—as long as they're good!).
7. How to submit your story: Please email submissions@greenprints.com with "Story Submission" in the Subject Line. Warning: It may be a while before you hear back from us (see P.S.). Please include a physical mailing address with your submission—so we can pay you and send you issues when we run your story!
You can also physically mail your garden writing manuscripts:
GreenPrints
P.O. Box 1537
Attleboro, MA 02703
8. In your cover letter, please tell us something clever/witty/appropriate about yourself that we can use for our "Contributor's Page" if we use your piece of garden writing.
9. Poetry: Well, we run about 1 poem per issue, so let's admit we probably can't accept your poem. The few we do take tend to be a) hands-on, dirt-under-the-nails, gardening poems b) not too saccharine, and c) rarely in rhyme, but most of all d) clever. Innovative. Offering well-expressed, detail-dressed new twists on this magazine's very old topic. Payment: $20.
10. One last thing: Are you a SUBSCRIBER? If not, please—oh, please—become a Subscriber now! Not only does it get you a wonderful little magazine and the best possible feel for the type of garden writing we run, it also helps us thrive so we can run your (and other people's) writing! (Hint: Do you know anyone who loves gardening? What a great gift GreenPrints makes!)
Thanks again. We appreciate your contribution and the work it takes. Best to you with prose, plants, and life,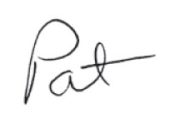 Kim Mateus, Editor & Pat Stone, Founding Editor
P.S. Oh, one more thing: We generally can't find time to read submissions until the month after an issue deadline. So your garden writing submission is likely to lie fallow until late in February, May, August, or November.