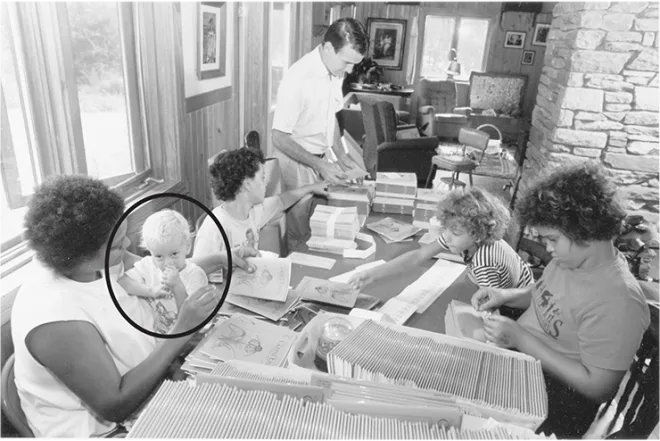 As part of our special 25th anniversary year, each issue in 2015 will contain a piece by one of our four offspring about "Growing Up with GreenPrints." So far, we've heard from the three oldest, Nate, Jesse, and Sammy. This go-round, it's 26-year-old Tucker's turn!
I am the only Stone child who can truly say that I've known GREENPRINTS all my life. (The youngest of us four, I was born six months before the first issue came out.) But to say I really know GREENPRINTS isn't entirely accurate. I mean, I know how to label an issue, I know how to stuff a renewal envelope, and I know how to stamp and send that letter—I could do all that with my eyes closed. But I never knew what went into the magazine. Oh, I read the occasional story, if Pops was trying to figure out which stories to buy or run and wanted to hear my opinion. Sure, I would look at the beautiful artwork, read the "Buds" quotes (They were short!), and check out the family pictures Dad used and what he said about us. But that was about it. I never even read an issue from cover to cover until I was in university.
GREENPRINTS gave me a dad who was blessedly around.
So just what did I know about GREENPRINTS? As a child I was acutely aware of how close we were to deadline (all you had to do was watch—and listen to—Dad!). I knew when Dad was reading through submissions trying to figure out which ones to buy, and I knew when he was rereading those bought submissions trying to figure out which ones to run. I knew this because he'd either tell me to quiet down, or he'd just go hide someplace where my noise wouldn't find him. ("Say, where's Dad?") I knew that when our house phone gave a double ring, I shouldn't pick it up and say, "Wassup." That double ring meant it was a GREENPRINTS phone-order call (and yes, I have picked up the double ring with a "Wassup? I mean, GREENPRINTS, this is Tucker Stone. How can I help you?"). And I definitely knew how heavy those boxes of issues were when we got them in from the printer. I knew because I got lots of "character-building experience" unloading them!
However, I also know that GREENPRINTS has put food in my belly every day. I know that GREENPRINTS helped put me out on the soccer pitch, which in turn led me all across the country. I know GREENPRINTS brought me back for Christmas the year I was living in South America—and the list goes on. But most important, GREENPRINTS gave me a dad who was blessedly around, a dad doing the things he loves. There're times when I think, "Man, Pops coulda been rich if he'd followed that big magazine that offered him a job up north." But then I reach the same conclusion I've heard him reach every time he talks about the decision to move or stay 25 years ago.
I'm glad he chose GREENPRINTS. I'm glad he chose GREENPRINTS because with GREENPRINTS came Dad at my chorus concerts, Dad leading camping trips and canoeing trips, and Dad home mornings through evenings. And that's a gift from GREENPRINTS and you, the readers, that I'll forever cherish.
Thank you, GREENPRINTS. ❖
This article was published originally in 2015, in GreenPrints Issue #103.