ILLUSTRATIONS BY MARILYNNE ROACH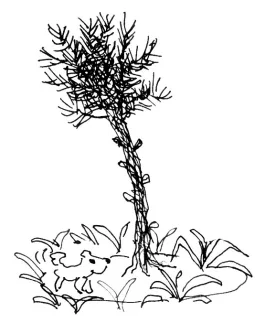 When I first bought my house in 1991, there was a cute little evergreen in the front yard that the previous owner had planted. Of course, over the course of 23 years, it hadn't stayed little and cute. It'd become big. And obtrusive.
About nine years ago, I brought home a puppy, Roscoe, and a year later, Bodie, his brother. The "boys" liked to run under the pine tree and not come out. I got tired of fighting limbs, sap, and pine cones going after them, so I pruned some of the lower limbs. Of course, I had to cut more limbs, here then there, to make it all even—and eventually ended up with a Wisconsin palm tree!
In a panic, I planted ditch lilies around the tree to mask the bare trunk. But ditch lilies only look good the 20 minutes they're in bloom. Worse, in winter my husband used the snow blower to make a ring around the tree—a "pee path" so the little Shi Tzu mixes wouldn't frostbite their lower parts. After nine years of this, I had a brown dead ring around a palm pine tree, with drooping ditch lilies, to boot. And this vignette of horror was right outside my front door!
I tried using motivational speaking (some call it "nagging") to encourage my husband to cut the tree down. No luck.
Finally, this year Good Fortune smiled upon me. The tree developed some sort of blight and became so scraggly my husband finally relented and cut it down.
What did it in? Mother Nature? Nine years of dog pee? My years of withering looks? I like to think it was the last cause: me.
What's your worst gardening mistake? Send it to GREENPRINTS, Broken Trowel Award, P.O. Box 1355, Fairview, NC 28730. If we print it, you'll get a free one-year subscription and our GREENPRINTS Companion CD!
This article was published originally in 2015, in GreenPrints Issue #103.