ILLUSTRATION BY LINDA COOK DEVONA
I was 2 years old when I went to a family reunion at my great-grandparents' house in Sodaville, OR. There was no food I liked to eat at the party; no chicken nuggets, no pizza, no French fries—nothing! Thus, I ran to the little garden in the back with a blackberry bush where I spent most of my evening, eating my dinner.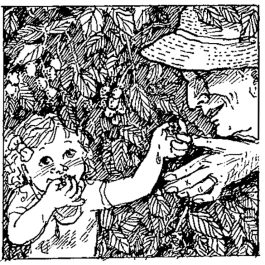 After some time, my great-Grandpa (Grandpa Strasse) came over to see what I was doing. I looked up at him with my purple face, not yet knowing who he was. I liked him right away when he decided to eat the blackberries with me and subsequently, my two sisters.
Whenever we went back to the house, I'd look for the kind old man, but he was nowhere to be found. I looked in all the logical places—cabinets, fridge, under the tables. I thought that if I waited at the bush long enough, my blackberry friend would come. On one of these visits, Mom asked what I was looking for and I said I was looking for Grandpa Strasse. This is when she explained what had happened.
I bear no sadness, only happiness, that my earliest memory involved me doing something fun with a family member I'd never see again. I still eat blackberries off the bush and think about Grandpa Strasse. To this day, gardens are among my favorite places, and when it has a blackberry bush, even more so.
—By Michaela Bauer from Lebanon, OR.
This article was published originally in 2022, in GreenPrints Issue #131.