ILLUSTRATIONS BY MARILYNNE ROACH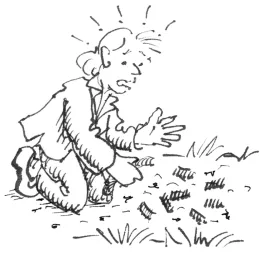 I love flower gardening—it's an inheritance from both my mother and grandmother. So it is with great dismay that I tell the story of the peonies.
At one time, my grandmother was given a beautiful plant by a distant relative, a Chinese peony, she called it. (I've learned it is also called a fern-leaf peony.) It had delicate foliage and gorgeous red flowers. As the years passed, Grandma gifted family members with tubers from the original plant. She was very protective of her peonies—she would not share them with other people for love or money—so they became a real family heirloom. My mother also passed on some of them to me. They all thrived.
In the past few years, our lawn had encroached on the peony bed. I decided that just meant I needed a bigger garden! I had my husband carefully rototill around the edge of the existing bed, showing him exactly where to start and stop. Then I went to work preparing the soil for planting. Imagine my horror when I found pieces of tubers hiding in the freshly turned soil. The lawn had taken over more of the garden than I knew!
I carefully gathered the pieces and put them back in the ground, with a prayer that Grandma would send them help from up above. So far I haven't been able to tell Mom about the tragedy.
Oh, no! I just made another mistake. Now she can read about in GREENPRINTS!
What's your worst gardening mistake? Send it to GREENPRINTS, Broken Trowel Award, P.O. Box 1355, Fairview, NC 28730. If we print it, you'll get a free one-year subscription and our GREENPRINTS Companion CD!
This article was published originally in 2016, in GreenPrints Issue #108.