ILLUSTRATIONS BY CHRISTOPHER REID
When the coronavirus pandemic hit, I was stunned. Everything felt surreal. Furloughed from my job teaching in a biology lab, I could no longer experience the look in trainees' eyes when they finally understood a complex concept, or the satisfaction when I helped them overcome a problem. Sheltered at home, I suddenly had all sorts of time, but I couldn't enjoy it because I felt haunted and edgy. Watching the news gave me nightmares. All I could think was, "Beam me up, Scotty! I don't want to live in this sci-fi movie!" I needed to find a way to feel more like my normal self. I needed to be grounded.
"Grounded?" Ground! My garden!
I plunged my trowel into the garden and almost immediately started to feel better—especially when I started winning the war against the weeds. This had never happened before! The weeds have always been two steps ahead of me. But now I finally had enough time to keep up with the weeding and the pinching, pruning, feeding, transplanting, mulching, etc. This was wonderful.
I needed to find a way to feel more like my normal self. I needed to be grounded.
The only thing missing was the feeling of self-worth I got from my interactions with the trainees. I was helping myself, but I missed the satisfaction I got from helping others.
Now that I was spending more time in my front yard, I frequently noticed neighbors taking walks. Some pushed strollers, some used walkers, many walked dogs (some of these dogs were getting multiple walks a day—they were probably wondering why they couldn't just go back to their naps!). My frequent socially distanced chats with many of these neighbors always cheered me up. Hmmm, maybe I could do something for them.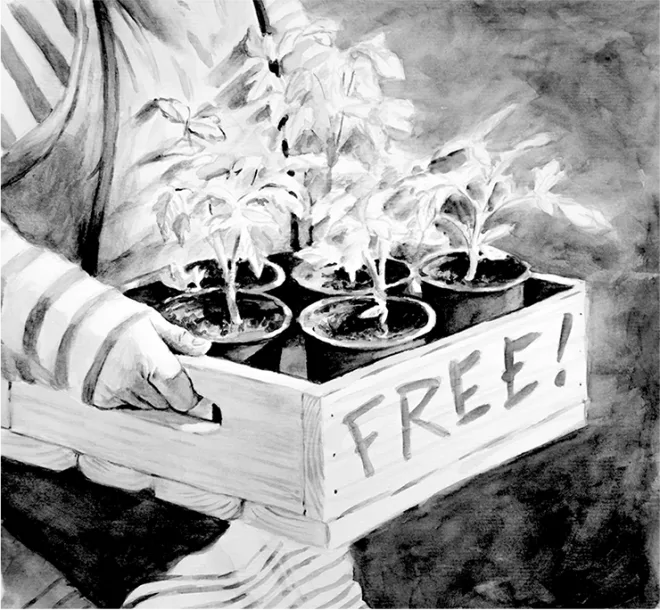 Looking around my yard, I realized that my Dutch irises were blooming so profusely that I had many more flowers than any one household could need. It always amazes me how gorgeous these irises are every year. Their contrast of sunny yellow with rich purple just takes my breath away. They are a brilliant herald of Spring.
I could share this herald! I cut about 20 striking stems and put them in a bucket of water on my driveway. I wrote a note with sidewalk chalk inviting my neighbors to take some to cheer up their homes. The irises went quickly, so over the next few days, I refilled the bucket with more blooming beauties. My iris bed still looked as lush and lively as before. How could this be? I decided just to enjoy the magic, gratified to see the irises disappear from the bucket and imagining their vibrant colors spreading sunshine all over the neighborhood.
Rather than eat kale for breakfast, lunch, and dinner, I could share the extra with my neighbors.
The following week, I had a garden crisis: My kale was still growing happily in the pots where my tomato seedlings needed to be planted. But then I had an "ah-ha" moment: rather than eat kale for breakfast, lunch, and dinner, I could share the extra with my neighbors. I harvested the kale, put it in a cooler on the driveway, and wrote another sidewalk-chalk note. The harvest vanished just like the irises. I was so happy to be able to share and to contribute to others' healthy diets. A passing neighbor commented that she even got her kids to drink kale shakes. That may be taking it too far: my apologies to those kids.
A few weeks later, my transplanted tomatoes were happily thriving in their new homes. I scrutinized the 20 or so extra tomato seedlings I had left. I always have a conflict when this time comes: I raise these living things from seeds, and it feels like child abandonment to discard them in the compost. I can hear them screaming, "Why didn't you choose me? I would have grown better than that other seedling that you planted in the pot. Wait…wait…nooooo!" So I transplanted the extra seedlings into bigger pots and put them out on the driveway with another note to the neighbors. After just a few days, they had all been adopted. This was brilliant! I didn't have to throw the extra seedlings out, and now my neighbors will have their own delicious heirloom tomatoes. By this point, I could almost ignore the calamitous world beyond my neighborhood. I was relishing my time in the garden.
My next driveway donation was baby spider plants I'd started from cuttings off a huge old plant that I cleaned up. It took a few days, but the spiderlings were all adopted by the neighbors.
My berries were extremely productive this year, a bumper crop good enough for several batches of jam. My pantry was overflowing, even after I sent jars to all of my family. I put a big flat of sparkling jars of jewel-colored jam outside for passersby. They disappeared faster than anything! A few days later, a neighbor who had enjoyed the jam delivered a huge basket of luscious apricots. A jam session later, I repeated the process with a flat of apricot jam on the driveway. These were snatched up almost immediately, too. I only hope all these jam beneficiaries don't become as demanding as my family: my daughter Amie called me a while back complaining that she had to use store-bought jam! Horrors!
Recently, Paul across the street saw me working in the front yard and invited me to see how well my—now his—tomato plants were doing. They were lush and healthy. I must admit, one of his far surpassed my own! He was so excited to get the tomatoes that he'd dug up another section of his yard and planted cucumbers, peppers, and more. He was beaming like a proud parent, and I was delighted to have had some role in setting him on the path of becoming a gardener.
A young family around the corner often stops to chat while walking their dogs. Their 8-year-old son, William, has given me beautiful hand-made construction paper thank-you cards for my offerings. Another neighbor has brought me multiple batches of fresh zucchini, something I don't grow myself. After 43 years of marriage, Kim finally realized he does indeed like zucchini, so this was a clear win-win. A few other neighbors have stopped by to return empty jam jars (I'm glad, those jars aren't cheap), and we have enjoyed socially distant chatting. When I was working, I had so little time for this type of visiting, and it has been a real pleasure to get to know so many new people.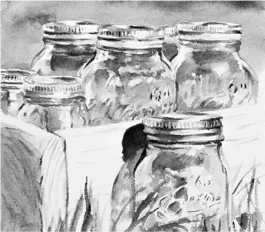 I am so grateful to have a garden, now more than ever. Be-sides the peace and joy it gives me while I am immersed in it, the new connections I have made with my neighbors have helped fill the void left when my job so suddenly disappeared. Not long ago, I was pruning a tree in the front yard when a neighbor who was driving by stopped, rolled down her window, and thanked me for spreading joy.
I'm receiving fully as much joy myself. All thanks to my garden. ❖