This year, for the fourth year in a row, I embarked on the journey of growing watermelons. The first year, I grew watermelons I had no business trying to ripen in my growing zone, and as a shocker to no one but me, they did not grow. The second year, they didn't even try, they made it as far as seedlings. It was a wet summer and not very hot, so they didn't have a chance. The third year, I picked a smaller varietal, placed them in a sunny spot, they grew, and I got so excited that I harvested all but one too early.
This year I was determined to improve upon the prior years. I planted a varietal perfect for my zone that local farmers had success with. I used weed fabric to block out weeds, and had irrigation set up for optimal watering. I offered it a trellis to climb, and most importantly, I waited … and waited … for a watermelon to become ripe. The first harvest deserved a hand-slap, because I was told the browned tendrils around the stem were most important, and that turned out to be wrong. It was sweet enough to make watermelon lemonade with, though!
With much patience after that, I built a hoop house cold frame to offer my sugar babies a longer season and waited until the tendrils were brown, the spot on the bottom was yellow, the color was dull, and the stem was turning brown or had brown veins. Alas, I did it! Sweet juicy watermelons!
But wait, what the heck to do with a whole bunch of ripe watermelons? Well, we juiced, we froze, and we gave some away (hopefully ripe, though nobody would probably tell me.)
That's what I love about gardening. I don't consider myself a patient person, but if I can wait four years for a ripe watermelon, I can wait for anything!
If you need a good little chuckle, today's story, "The Watermelon Weeding Chair" brings not only that, but some practical advice on growing watermelons! Keep reading for the whole story.
Stories of Growing Watermelons and Other Plants
This story comes from our archive that spans over 30 years and includes more than 130 magazine issues of GreenPrints. Pieces like these that inject gardening humor into everyday life lessons always brighten up my day, and I hope it does for you as well. Enjoy!

The Watermelon Weeding Chair
By Nancy Lockwood of Streetsboro, OH.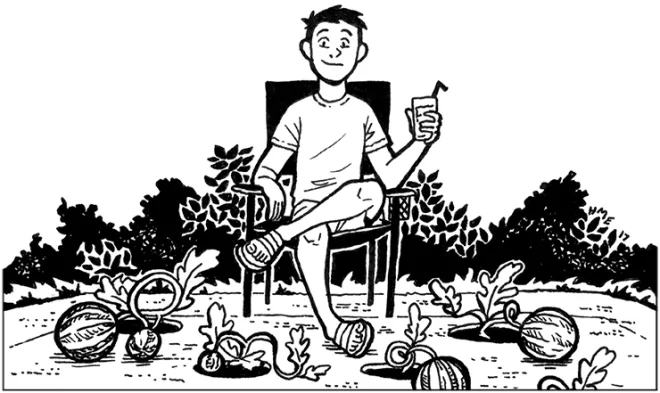 When my son, Arnie, was 15, he decided to grow watermelons—those smaller, round, sweet ones. I pointed to a patch of ground behind our big garden and said OK. He'd had years of weeding experience helping in the family vegetable beds, so he knew what he was doing.
Actually, he more than knew what he was doing. First, he mowed the area close to the ground. Then he dragged in an old rug he'd found in a neighbor's rubbish heap. After positioning the rug, he cut several holes in it, all carefully spaced from each other. He planted two seeds in each hole.
Next, Arnie hauled in an old yard chair and set it at the back of his garden. It was his weeding chair. He would grab a soda and a snack and go sit out there—watching the weeds not grow through his rug! His harvest wasn't very big, about five or six watermelons, but he certainly didn't have to work hard for it! ❖
By Nancy Lockwood of Streetsboro, OH., published originally in 2017, in GreenPrints Issue #111. Illustrated by Hannah England

Did this remind you of a similar story you'd like to share about growing watermelons or another crop? Leave a comment below, I'd love to hear it.