You'll find fond memories of a mother's garden or a grandmother's garden throughout the stories in GreenPrints. For many of the writers, these gardens are places of warm memories, life lessons, or a peaceful refuge from the world. I love reading these stories because they remind me just how much power a garden has.
Not only can gardens feed us or give us beautiful flowers and plants, gardens can also heal us. Gardens are a place where time stands still and we can reflect on our tribulations. On occasion, however, it's not the grandmother's or mother's garden that give an emotional blanket of love to a younger generation. Sometimes, it's the younger generation that shares that warmth with their parents.
That's what struck me about this story, My Mother's Day Present, from writer Margaret R. Whitney. It's a very short story, and I don't want to give anything away, lest I ruin the joy of reading. What I will say is that this story is so wonderfully heartwarming. And like so many others I've had the pleasure to read here at GreenPrints, it reminds me that a garden has a strength so far beyond what we can see. I hope you enjoy this story as much as I did.
A Surprise Grew in This Mother's Garden and It's As Heartwarming As So Many Other Stories in GreenPrints
This story comes from our archive that spans over 30 years, and includes more than 130 magazine issues of GreenPrints. Pieces like these that turn stories of healing gardens into everyday life lessons always brighten up my day, and I hope this story does for you as well. Enjoy!

My Mother's Day Present
By Margaret R. Whitney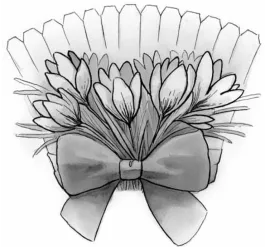 My daughter Annie had moved to California the past Fall, and I missed her terribly. The youngest of my six children, she'd been the last to leave the nest. For the past year she had been living back home with me in New Hampshire while her Marine husband was on duty overseas. When he returned, though, they'd moved to his new, long-term posting—in San Diego.
Over the Winter, we exchanged letters and talked on the phone. One bright Sunday in Spring, she called to wish me a happy Mother's Day. We chatted for a bit, then she asked, "Have you found your Mother's Day present?"
Puzzled, I answered,"No, nothing has come in the mail."
She laughed and said, "Go outside and look along the fence, Mom." I went outside to investigate, wondering how she could possibly have arranged to have a gift delivered to my yard without me knowing.
My daughter had surely been thinking of me last Fall while she was still here. All along the fence line were great clusters of crocuses just coming into bloom. Tender green shoots promised daffodils and hyacinths to come, as well.
All the time she had been gone, her thoughtful gift had hidden in the cold, dark earth —waiting for the warmth of Spring to surprise and delight me. I was deeply moved.
Flowers aren't the only things that cherish warmth. ❖
By Margaret R. Whitney of Nashua, NH., published originally in 2018, in GreenPrints Issue #113. Illustrated by Dena Seiferling

Do you have any stories about a healing garden experience that came when you least expected it? I'd love to read about it in the comments!