Can you name a rose in memory of someone? Maybe not officially, but I imagine it's not too unusual to rename a flower or plant to honor those living or gone. That's Jennie's tulip or that's Grandma Ethel's lavender. Roses, though, seem to hold a special place.
Maybe people name a rose in memory of someone because rose bushes can live for decades in the right circumstances. Or maybe we are just drawn to roses, as they have so much symbolic meaning to us. Of course, they also happen to be beautiful flowers, even if they are a little thorny!
The rose in today's story, The Agnes Rose, by Patty Brooking, isn't one you'll find in the pages of your favorite seed catalog. It comes from a hillside grave in rural Pennsylvania, and exists in only two other locations.
What makes this particular rose unique is how much meaning it has to Patty's family. She points out that this rose has "bridged generations of our family." As family heirlooms go, I feel like the Agnes Rose is pretty special.
I promise this story will have you thinking a lot about family and loved ones, and what something as simple as a beautiful rose bush can mean for generations to come.
When You Name A Rose In Memory of Someone, There's Always a Story There, and You Can Be Sure To Read It In GreenPrints.
This story comes from our archive that spans over 30 years, and includes more than 130 magazine issues of GreenPrints. Pieces like these that turn stories of healing gardens into everyday life lessons always brighten up my day, and I hope this story does for you as well. Enjoy!

The Agnes Rose
By Patty Brooking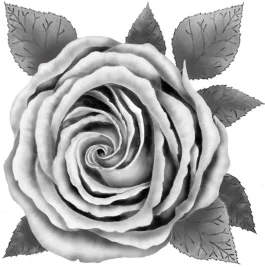 Agnes, my grandfather's sister, died in the 1918 influenza epidemic. She was young, married, and pregnant. My grandfather was the only family member healthy enough to attend her burial. Later that year, their mother (my great-grandmother) planted a rose on the grave. The Agnes rose, as we now call it, is still there.
Her hillside grave in rural Pennsylvania has been maintained by our family since 1918. Over the last century, the encroaching woods have shaded the grave, causing the rose to produce long, gangly canes and few flowers.
I tried to propagate cuttings from pruned pieces, but had no success. My cousin, Jan, had better luck. The rose flourishes in full sun at her horse farm and produces abundant fragrant pink blossoms. Jan divided her rose and gave me a small Agnes rose as a housewarming present when we purchased our own farm in 2008. It now blooms consistently on my birthday in early June.
Jan and I both feel a unique connection to our distant relative through this rose, a rose that has bridged generations of our family. If her graveside rose ever freezes over winter, we intend to replace it with one of ours. As long as we're alive, Agnes will have this rose on her grave. It's already been there for almost 100 years.
I have no doubt that this Agnes will thrive long beyond our earthly existence. ❖
By Patty Brooking of New Galilee, PA., published originally in 2016, in GreenPrints Issue #105. Illustrated by Catherine Straus

Have you ever named a plant or flower in someone's memory? I'd love to read about it in the comments!