I love to cook. And I have a garden to table cookbook or two or three on my shelf. I love looking through them to find out what other cooks and chefs are making and how they're preparing their vegetables. Some of the recipes in these books are pretty darn fancy. And I'll admit that they're intriguing. I've even made a few of them and they're quite good.
However, my favorite garden to table cookbook recipes are decidedly not fancy. In fact, they're hardly recipes at all. Take asparagus, for example. I love a good Cream of Asparagus soup, but my favorite way to prepare asparagus is simply brushing it with a little olive oil, adding a dash of salt and pepper, and throwing it on the grill. There's nothing like that first, tender Spring asparagus to make your mouth happy!
It's the same with tomatoes, potatoes, bell peppers, cucumbers, and just about anything else that comes from the garden. The magical flavors in all those recipes come from the delicious, fresh vegetables we harvest.
In today's story, Simply Gourmet, Caroline Kalfas shares her experience of this realization one sunny morning after a breakfast of "a hearty serving of red potatoes with green and yellow wax beans fresh from the garden." It turns out that garden fresh ingredients usually lead to delicious meals!
You'll Find Plenty of Garden to Table Cookbook and Food Stories Here in GreenPrints
This story comes from our archive spanning over 30 years, and includes more than 130 magazine issues of GreenPrints. Pieces like these that imbue the joy of gardening into everyday life lessons always brighten up my day, and I hope it does for you as well. Enjoy!

Simply Gourmet
By Caroline Kalfas
Forget fancy restaurants. Forget complicated recipes.
Nothing compares to the breakfast I ate this morning—a hearty serving of red potatoes with green and yellow wax beans fresh from the garden and all boiled together with a dash of oil.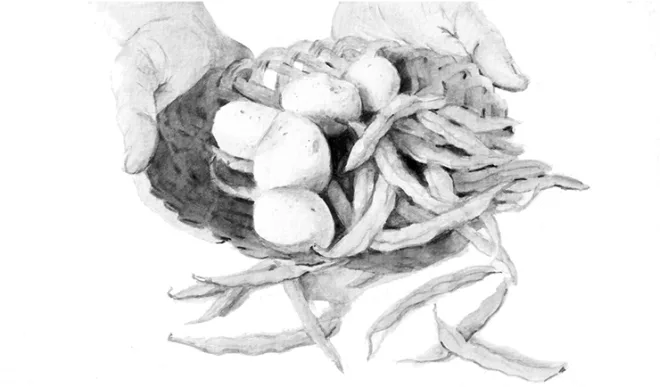 The only extra ingredients needed for the vegetables when I put them on my plate were salt and butter. I watched the yellow pat melt like a tasty lava over the warm, quartered potatoes and hand-snapped beans. When all that remained was a spread of juice, I wanted to lick the bowl (but, polite, refrained).
Afterwards, while sipping a cup of morning coffee, I proudly reflected on my skills as a master chef.
Then, like the butter over those potatoes, understanding washed over me. I wasn't a chef, or at best I was a sous chef. All I had to do was enjoy the buffet. My garden—with sun, rain, and soil—had really prepared the meal. ❖
By Caroline Kalfas of Woolwich Township, NJ., published originally in 2018, in GreenPrints Issue #114. Illustrated by Christopher Reid

Do you have a favorite garden fresh meal that tastes good because the ingredients themselves are divine on their own? I'd love to read about them in the comments.