As a gardener, Easter is an extra special holiday. It's a celebration of Spring, when the flowers are coming into bloom, the robins are singing, and blue skies are on the way if they aren't already here. Easter is also a celebration of the life of a different kind of gardener.
In the Christian tradition, Easter acknowledges the life, death, and resurrection of Jesus. And while he is known as a carpenter, in Jesus a Gardener?, from writer Shelley Cramm, he takes on another identity. In this story, a mourning Mary Magdalene comes across the resurrected Jesus, and mistakenly assumes he is "a common laborer."
"Of greater intrigue, though, is that Jesus allowed her to think he was a gardener. He could have spoken her name right away, yet he let the tension build, ever a storyteller." In writing this story, Shelley takes us on a short journey through the Christian story of Easter, pointing out the many ways a garden can be both a place of planting and caring for plants and trees, and also a place where our spirits can learn and grow. The garden is a place we can experience joy, happiness, and even adventure.
As the treasures of Spring arrive, I hope you can take a moment to reflect on how much there is to gain from a simple garden.
Easter Is a Time for Joy That Any Gardener Can Appreciate. These Stories Just Might Prove It
This story comes from our archive spanning over 30 years, and includes more than 130 magazine issues of GreenPrints. Pieces like these that imbue the joy of gardening into everyday life lessons always brighten up my day, and I hope it does for you as well. Enjoy!

Jesus a Gardener?
A message for Easter.
By Shelley Cramm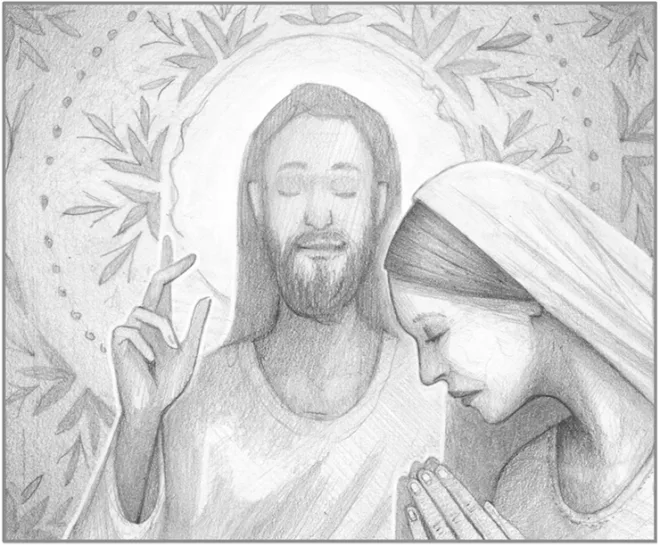 He asked her, "Woman, why are you crying? Who is it you are looking for?" Thinking he was the gardener, she said, "Sir, if you have carried him away, tell me where you have put him, and I will get him."
~John 20:15 NIV
The devastated woman was completely beside herself over the death of the man she had held dear, the wholly unexpected end to his hearty, hardy life. She rambled toward his tomb, searching for something; what it was, she wasn't sure exactly. Would seeing his body give her solace and answers? His tomb was in, of all places, a garden.
Despairing and disoriented, she asked a passerby if he knew the whereabouts of the deceased's body. Turns out, the passerby was the one whom she hoped to find—Jesus, the one she longed for. He knew, yet concealed his identity; and she mistook him for…a gardener. Why did Mary Magdalene assume he was a gardener? Something in Jesus' demeanor must have implied commonness, humility, a connection to the earth, an embrace of its dirt and its ways and a peace about all the work needed to care for it. She supposed all of this in an instant's distracted glance, her mind confused with sorrow.
Of greater intrigue, though, is that Jesus allowed her to think he was a gardener. He could have spoken her name right away, yet he let the tension build, ever a storyteller. He had just endured the greatest challenge to his godliness, submitting himself to death. He had triumphed! He stood there, resurrected, yet held back his glory to appear as a common laborer. Amid a fill-the-sky-with-herald-angels moment, he lingered, drawing out her deep devotion, and connecting to the beginning when God planted a garden (Genesis 2:8). In Eden, we had fellowship. I have restored our fellowship. Welcome home. Christ appearing as a gardener speaks to God's everlasting love for us, unfailing since the beginning (Jeremiah 31:3), a gardener's devotion to his garden, and the work he did to bring us back home (Zephaniah 3:20).
We cherish this twinkling welcome in the garden, this sanction of all that a garden embodies—work, joy, purpose, learning, delight, death, new life and a meeting place with our Lord. A "Rabboni-moment" is to look up from our garden beds and acknowledge what we have been hoping for out here is really who we have been hoping for; it is not some distant force of nature that soothes us in the garden, it is him: Jesus, personal and present. At these moments, all the relief, trust, adventure, excitement, and lordship that Mary Magdalene felt for Jesus becomes our own. ❖
---
Taken from NIV God's Word for Gardeners Bible Copyright © 2014. Used by permission of Zondervan. www.zondervan.com.
By Shelley Cramm, published originally in 2016, in GreenPrints Issue #105. Illustrated by Kerry Cesen

Do you have a favorite story about Easter that you'd like to share? I'd love to read them in the comments below!