I have loved growing peonies over the last decade. They are my favorite flower and I've always dreamed about having a beautiful garden of them one day, with vases filled with pinks and purples and whites all around me. Little did I know that when we bought our house, the former owner had planted a secret gift just for me—rings of peonies around her perennial gardens!
When our first spring arrived, these gorgeous blooms started popping up everywhere, taking over the yard like an invading army of beauty. And it seemed that everyone wanted to take part in their joyous display; bees buzzing around them as butterflies fluttered between petals, birds singing in celebration of their arrival. Even tiny ants couldn't resist getting in on the action, crawling through each bloom to harvest nectar from within its depths—though this sometimes resulted in them making their way into our house too! But even that didn't bother me; if I was an ant I would have been tempted to suckle on those luscious peonies too!
Every year they come back with more vigor than ever before and remind us why nature is such a wonderful thing to behold. It's no wonder why these flowers have been beloved by people throughout history; they are truly something special indeed!
In today's story, "The Great Peony Massacre," by Jo Anne Walker, she does the unthinkable. She's growing peonies, then she rototills her peonies. And these are not just any peonies, these are passed down from her grandmother, who got them from a distant relative. The horror! Keep reading to find out what happened!
Enjoy More Gardening Mishaps
This story comes from our archive that spans over 30 years, and includes more than 130 magazine issues of GreenPrints. Pieces like these that turn stories of gardening mishaps into everyday life lessons always brighten up my day, and I hope this story does for you as well. Enjoy!

The Great Peony Massacre
By Jo Anne Walker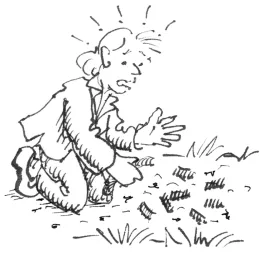 I love flower gardening—it's an inheritance from both my mother and grandmother. So it is with great dismay that I tell the story of the peonies.
At one time, my grandmother was given a beautiful plant by a distant relative, a Chinese peony, she called it. (I've learned it is also called a fern-leaf peony.) It had delicate foliage and gorgeous red flowers. As the years passed, Grandma gifted family members with tubers from the original plant. She was very protective of her peonies—she would not share them with other people for love or money—so they became a real family heirloom. My mother also passed on some of them to me. They all thrived.
In the past few years, our lawn had encroached on the peony bed. I decided that just meant I needed a bigger garden! I had my husband carefully rototill around the edge of the existing bed, showing him exactly where to start and stop. Then I went to work preparing the soil for planting. Imagine my horror when I found pieces of tubers hiding in the freshly turned soil. The lawn had taken over more of the garden than I knew!
I carefully gathered the pieces and put them back in the ground, with a prayer that Grandma would send them help from up above. So far I haven't been able to tell Mom about the tragedy.
Oh, no! I just made another mistake. Now she can read about in GREENPRINTS! ❖
By Jo Anne Walker, published originally in 2016, in GreenPrints Issue #108. Illustrated by Marilynne Roach

Are you growing peonies at home? Does this story remind you of one of your own?  Leave a comment and share it with us!