Trees are honestly a force of nature. Sometimes, I find it so hard to fathom how these giant beings can sprout from a teeny, tiny seed. But here they are, making our world a much more beautiful place to live in! The average life cycle of a tree lasts 300-400 years, which is incredible, but some live thousands of years. That means that the apple tree you plant today could be feeding the generation after you, and the one after that.
One of the oldest trees in the world is located in White Mountains of California, an almost 5,000-year-old Great Basin bristlecone pine tree known as Methuselah. Can you believe that? Just think about it: it's been through all of our World Wars and has survived even the most explosive events in history. While they do have a much longer lifespan than humans, sadly, our beloved trees eventually die.
There are many reasons why trees meet their demise — one of these is due to their environment, another from harmful diseases and pests. Other reasons come from catastrophic events, wildfires, and age-related causes.
When a tree dies from its immediate environment, it's probably because it's young and placed in a rather dry site, where it doesn't have access to enough water to form strong roots. Just as it can be influenced by its surroundings, the same tree can also be susceptible to diseases like wilt, rust, blight, root rot, or anthracnose. The pathogens from these diseases can wound the tree from the inside out, thereby damaging its vascular system.
These unfortunate events can sometimes be uncontrollable; that's why we really do need to take care of the trees that we love so much. I love to think of the lifecycle of a tree much like any historical figure, and wonder what they've seen. Because, trust me, they've seen so much more than we have!
If you have a tree in your backyard that's been with you for the longest time, you need to cherish it. You don't know how long it'll last, or how long you'll last. As sad as that sounds, that's the life cycle of a tree: they live. They bloom. And ultimately, they die.
But, lucky for you, today's story about a dying tree is a bit more uplifting than that. So read today's piece, "Reading to a Willow", for the story of a little girl saying goodbye to an old friend.
More Stories About Our Wonderful Trees
This story comes from our archive that spans over 30 years and includes more than 130 magazine issues of GreenPrints. Pieces like these that inject the joy of gardening with kids into everyday life lessons always brighten up my day, and I hope it does for you as well. Enjoy!

Reading to a Willow
By Susan Newman of Marthasville, MO.
One evening last Summer, as my husband and I took a walk around our neighborhood, we stumbled upon a beautiful sight. Coming up to the home of one of our favorite families, we noticed Gwen , their 4-1/2-year-old daughter, sitting under a weeping willow tree. She had a large book in her lap and was reading aloud.
I greeted her and asked what she was doing. She told us she was saying goodbye to her dear friend the tree and reading it a story. The willow had leafed out in Spring, along with millions of purple violets under the branches, but then it began to lose all its leaves. Her parents found out the tree was dying and decided to have it cut down.
We knew how upset Gwen was by the tears in her eyes, but she remained loving to her tree. We had always enjoyed this young girl's spirit and tenderness; watching her sit and care for a tree on its last night standing touched my heart.
It's Fall now. The tree is gone, and the family is moving. But I will never forget that beautiful image of a small child showing us what love from the heart looks like.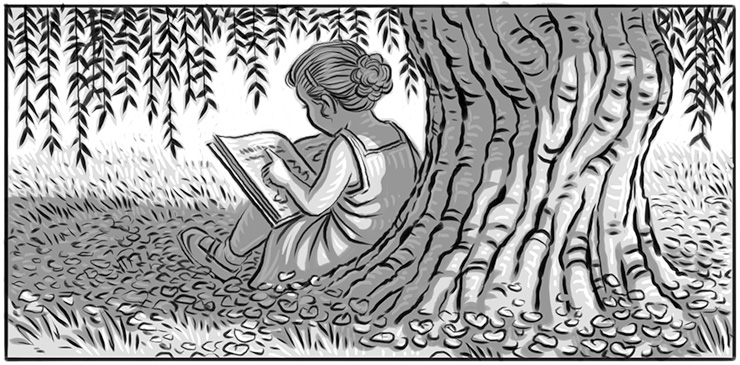 By Susan Newman of Marthasville, MO., published originally in 2022, in GreenPrints Issue #131. Illustrated by Jeff Crosby

Did this remind you of a similar garden story you'd like to share? Leave a comment below, I'd love to hear it.